Special Offers

Watch this page for special offers on some of the best-selling recordings
from our catalogue.

until March 31, 2014: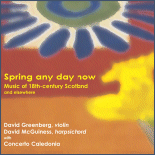 Yes, spring will eventually come, and until then...

"Not your average collection of fiddle tunes and all the better for it."
- Folk and Country Review
From now until March 31, this CD is on sale on our web site
for only $9.98, instead of the regular price price of $16.98.
Just click on the CD photo for more information, or to order.

Read ordering CDs for more information.