Special Offers

Watch this page for special offers on some of the best-selling recordings
from our catalogue.

until January 15, 2015: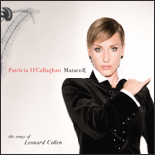 Matador: One of our bestselling CDs ever. Patricia O'Callaghan performs
songs of Leonard Cohen.

"A superb collection of Leonard Cohen gems... [including] quite possibly
the most exquisite 'Hallelujah' ever recorded." - JazzTimes, March 2012
From now until January 15, this CD is on sale on our web site for only $9.98,
instead of the regular price price of $16.98.
Just click on the CD photo for more information, or to order.

Read ordering CDs for more information.